Types of Flex Circuits
Flex and rigid-flex circuits are available in a variety of configurations to meet a broad range of application requirments. Below you will find information regarding the different types of flexible circuits available from a single- or double-sided design to multi-layer technologies, including rigid-flex circuit design specifications.
See our technical article for more information on flex circuit material and construction methods or see our past flex circuit technical webinar to better help you design your next flexible PCB.
---
Single-Layer Flex Circuit
IPC 6013 - Type 1
Description:

One conductive copper layer bonded between two insulating polyimide layers
Example construction: coverlay/copper/flex core

Configurations:

Single-sided access, dual-sided access, unsupported fingers

Flex Core Materials:

Standard thicknesses: 1/2 mil to 3 mil in either adhesive or adhesiveless constructions
Standard copper thicknesses: 1/3 oz to 2 oz in rolled annealed or electro deposited formats

Coverlays:

Standard thickness: 1/2 mil to 2 mil polyimide, with 1/2 mil to 2 mil epoxy or acrylic adhesive

Stiffeners:

Component support or ZIF connector thickness requirments
Materials: polyimide, FR4, stainless steel, aluminum

PSA (pressure sensitive adhesives) available for attachment purposes
EMI/RF shielding films available
Applications:

Suitable for either bend to fit or dynamic flex applications
---
Double-Sided Flex Circuit
IPC 6013 - Type 2
Description:

Two conductive copper layers with an insulating polyimide between and external polyimide insultaing layers
Plated through-holes provide circuit connection between layers
Example construction: coverlay/copper/flex core/copper/coverlay

Configurations:

Single-sided access, two-sided access, castelated holes

Flex Core Materials:

Standard thicknesses: 1/2 mil to 4 mil in either adhesive or adhesiveless contructions
Standard copper thicknesses: 1/3 oz to 2 oz in rolled annealed or electro deposited formats

Coverlays:

Standard thickness: 1/2 mil to 2 mil polyimide with 1/2 mil to 2 mil epoxy or acrylic adhesive

Stiffeners:

Component support or ZIF connector thickness requirments
Materials: polyimide, FR4, stainless steel, aluminum

PSA (pressure sensitive adhesives) available for attachment purposes
EMI/RF shielding films available
Applications:

Bend to fit and dynamic flex applications (construction dependant)
High-speed controlled impedance in surface micro strip configuration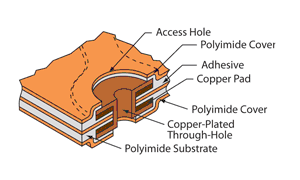 ---
Multi-Layer Flex Circuit
IPC 6013 - Type 3
Description:

Three or more flexible conductive layers with flexible insulating layers between each one and external polyimide insulating layers
Plated through-holes provide circuit connection between layers
Example construction: coverlay/copper/flex core/copper/adhesive/flex core/copper/coverlay

Configurations:

Single-sided access, two-sided access, castelated holes

Flex Core Materials:

Standard thicknesses: 1/2 mil to 4 mil in either adhesive or adhesiveless contructions
Standard copper thicknesses: 1/3 oz to 2 oz in rolled annealed or electro deposited formats

Coverlays:

Standard thickness: 1/2 mil to 2 mil polyimide with 1/2 mil to 2 mil epoxy or acrylic adhesive

Stiffeners:

Component support or ZIF connector thickness requirments
Materials: polyimide, FR4, stainless steel, aluminum

PSA (pressure sensitive adhesives) available for attachment purposes
EMI/RF shielding films available
Applications:

Bend to fit only
High-speed controlled impedance in surface micro strip or stripline configurations
---
Rigid-Flex Circuit
IPC 6013 - Type 4
Description:

Two or more conductive copper layers with either flexible or rigid insulation material as insulators between each layer
Plated through-holes extend through both rigid and flexible layers
Coverlay selectively applied to flex layers in flexible areas only
Blind and buried vias available
Example construction: Soldermask/copper/FR4/copper/flex core/copper/FR4/copper/soldermask

Configurations:

1 or more flexible layers; multiple flex layers in either bonded or air gap configuration
1 or more rigid layers

Flex Core Materials:

Standard thicknesses: 1/2 mil to 4 mil in either adhesive or adhesiveless constructions
Standard copper thicknesses: 1/3 oz to 2 oz in rolled annealed or electro deposited formats

Coverlays:

Standard thickness: 1/2 mil to 2 mil polyimide, with 1/2 mil to 2 mil epoxy or acrylic adhesive

Stiffeners:

Component support or ZIF connector thickness requirements
Materials: polyimide, FR4, stainless steel, aluminum

Rigid Materials:

180 TG FR4, low flow prepreg

EMI/RF shielding films available
Applications:

Suitable for either bend to fit or dynamic flex applications (1-2 flex layers only)
High-speed controlled impedance in surface micro strip or stripline configurations